Utilization pattern of extension tools and methods by Agricultural Extension Agents
Keywords:
Extension method, Extension agent, ICT, individual contact method, group contact method, mass contact method
Abstract
A study was conducted in Krishnagiri district of Tamil Nadu state to understand the utilization pattern of extension tools and methods by the agricultural extension agents. As ICT revolution is slowly conquering the rural sector, it becomes imperative that the agricultural extension agents transform themselves to the changing times and develop competencies in utilizing these ICTs.  The study explored the usage of various extension tools and methods by the change agents and the constraints faced in utilizing them. The findings revealed that the extension functionaries frequently used the individual contact methods viz., telephone, office calls and farm and home visits in the process of transfer of technology. Least efforts were shown in sending SMS based communication. Meetings were the common and frequently adopted group contact method. Demonstrations, farmer field school, farmer's interest groups, field trips and farmer training programmes were moderately adopted. Posters, leaflets and pre-season campaigns were the widely adopted mass contact methods. They possess least skill in utilizing farm magazines, presenting television and radio programmes, which are among the most popular and most efficient mass contact methods. The extension functionaries need to be trained adequately on the wider use of electronic communication methods like e mails, and SMS in the local language. Efforts should be taken up to sensitize the importance and train the extension agents in the usage of different group and mass contact methods.
References
Anand, K. (2014). Information management patterns of Extension personnel – An analysis, Unpublished Ph.D Thesis, Coimbatore, TNAU.
Davidson, P. Andrew, Ahmad, M & Ali, T. (2001). Dilemmas of agricultural extension in Pakistan: Food for thought, Agricultural research and extension network, Network Paper No. 116, ISBN 085003 543 0
Ghanghas, B.S. (2011). Analysis of communication sources used by farm technology researchers, extension personnel and farmers, Journal of progressive agriculture, 2(1): 79 – 83.
Jayakumar, N, Sundaramari, M & Sindhu, D. (2015). Usage of mobile phones by farmer convenors for agricultural information gathering, Paper presented at the Global Social Science Conference on Management of sustainable livelihood systems, Orissa University of Agriculture and Technology, 14-17 Feb, 2015.
Maalouf, W.D., Adhikarya, R & Contado, T. (1991). 'Extension coverage and resource problems: the need for public-private co-operation', in W.M. Rivera and D.J. Gustafson (eds). Agricultural extension: Worldwide, Amsterdam, Elsevier.
Melak, Degsew & Workneh, Negatu (2012). Agricultural education and technical competency of development agents in Ethiopia, Journal of Agricultural Extension and Rural Development, 4(11): 347-351.
Shuwa, M.I., Shettima, L., Makinta, B.G & Kyari, A. (2015). Impact of mass media on farmers agricultural production, Case study of Borno State, Agricultural Development Programme, Academia Journal of Scientific Research, 3(1) : 008-014.
TRAI (Telecom regulatory authority of India) (2016). Highlights of telecom subscription data as on 31st January 2016. Press release No. 22/2016.
Wilson, M.C & Gallup, G. (1954). Teaching methodology, Agricultural Extension work, United States Home economics, USDA, No.495, 92.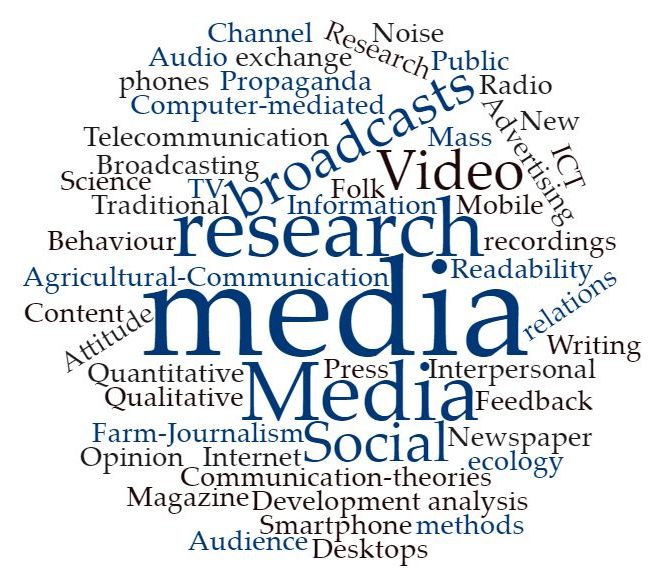 Downloads
How to Cite
Surudhi, M., Asokhan, M., & Arunachalam, R. (2018). Utilization pattern of extension tools and methods by Agricultural Extension Agents. Journal of Extension Education, 29(2). https://doi.org/10.26725/JEE.2017.2.29.5838-5849
License
Authors who publish with JEE agree to the following terms:


Authors retain copyright and grant JEE right of first publication with the work simultaneously licensed under a Creative Commons Attribution License that allows others to share the work with an acknowledgement of the work's authorship and initial publication in this journal.
Authors are able to enter into separate, additional contractual arrangements for the non-exclusive distribution of the journal's published version of the work (e.g., post it to an institutional repository or publish it in a book), with an acknowledgement of its initial publication in this journal.
Authors are permitted and encouraged to post their work online (e.g., in institutional repositories or on their website) prior to and during the submission process, as it can lead to productive exchanges, as well as earlier and greater citation of published work (See The Effect of Open Access).
Extension Education Society
https://creativecommons.org/licenses/by-nc-sa/4.0/
This work is licensed under a Creative Commons Attribution-NonCommercial-ShareAlike 4.0 International License.